Why is a Woodpecker Pecking my House (and how to stop them)
Woodpeckers are beautiful birds, and depending on your age, you might even be familiar with the friendly cartoon character Woody Woodpecker. You probably don't think of woodpeckers as pests. So why do you currently have one pounding away on your house and gutters, and what can you do to get rid of it and send it back to a tree where it belongs? Take a look at what you need to know about woodpecker aggravation.
Why Is A Woodpecker Attacking My Home?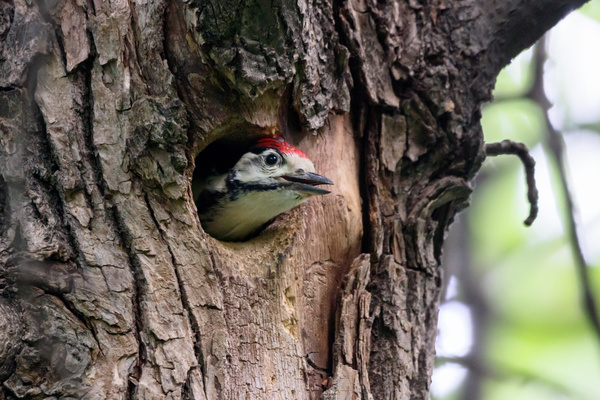 When you hear the constant drumming sound a woodpecker makes, it really does sound like they're attacking. In actuality, they're probably doing one of a few things. The woodpecker may be marking its territory and trying to attract a mate. The drumming sound can let potential mates know where to find them. If this is what your woodpecker is doing, it will probably stop when the species' breeding season starts in the spring.
Alternatively, the woodpecker may be excavating a hole to roost or breed in. The bird may also be eating or storing food. A woodpecker can actually alert you to an underlying insect issue in your siding – they eat things like the larvae of carpenter bees, leafcutter bees, and grass bagworms. They'll also knock small holes in the wood to store acorns in.
Can the Woodpecker Do Real Damage?
The bird won't knock a hole in your metal gutters, but it can do serious damage to the wood of your siding or your roof if it's knocking in one of those areas. Keep in mind that if the woodpecker is eating insects in your siding, you may need professional extermination services to get rid of an insect problem, and insects can do serious damage to your home's structure as well
Whether or not the woodpecker is hurting your home, the knocking can be extremely irritating. In fact, while a woodpecker may not be able to peck a hole through your gutters, the metallic sound of the bird's beak hitting metal can be arguably more disturbing than simply hearing them knock on wood.
How Do I Get Rid of the Woodpecker?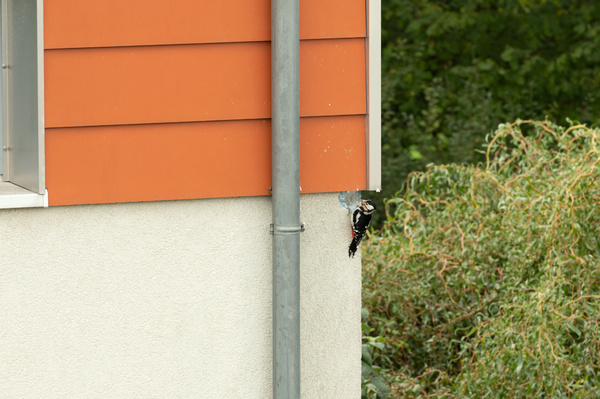 There are several types of deterrents you can get to discourage woodpeckers from knocking. Plastic owls, streamers, windsocks, plastic eyes, helium balloons, pinwheels, and strips of aluminum foil or reflective tape are some of the low-tech alternatives. You can attach bird mesh to the area of the home the bird is attracted to as well.  For a high-tech alternative, a sound system that plays woodpecker distress calls and hawk calls can be quite effective at frightening away a woodpecker.
If the woodpecker has made holes in your house, sealing them up with putty may convince the bird to go away as well. If it's a larger roost hole and not a small hole for acorns, though, check to be sure there isn't a bird inside before you seal it up. Also, you may want to avoid sticky repellents, as they can lead to injuries that kill the birds, rather than just getting rid of them.
If you're looking for a gutter solution for your home, Lednor Home Solutions is ready to help. They've been working on homes like yours for over three decades and have dealt with all kinds of situations. They can help you find the right gutter solution for your home. Contact them to Schedule a free estimate.