Your Easy Spring Cleaning Calendar
You're looking at the calendar, dreading the week or two ahead. Before you know it, the short, bone-chilling days of winter will be gone, you won't feel the frigid wind blowing through your hair, and you'll be longing for the days of shoveling snow and breaking up ice patches.
Well, look on the bright side. With the arrival of spring, you will get to experience the unbridled joy of spring cleaning!
It's never too early to start drawing up a plan of attack. Here's a weekend-by-weekend breakdown of your spring cleaning chores.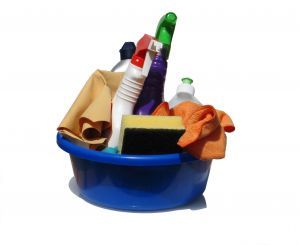 Choose your weapons carefully.
Weekend 1 – Clean all bathrooms.
Start by scrubbing and disinfecting the toilets, including the exterior of the bowl. Then clean all of the sinks, counters, and bathtub and shower surfaces and use a glass cleaner for any transparent enclosure panels and the bathroom mirrors. Finish by cleaning out drawers and medicine cabinets and dusting all vents or exhaust fans.
Weekend 2 – Clean the kitchen.
Begin by cleaning the oven; if it's a self-cleaning unit, it should finish up by the time you're done with everything else. Throw away any expired food or leftovers in the refrigerator and freezer, then wipe down all interior surfaces. Then you should clean out cabinets and drawers and wipe down the surfaces of small appliances, sinks, and countertops.
Weekend 3 – Clean the bedrooms.
The first step should be combing through closets and dressers and throwing out clothing items that haven't been worn in a year or more. Then go on a dusting binge, hitting nightstands, dressers, chests, lamps, shelves, and ceiling fans. Then vacuum all floors including hard-to-reach corners and under the bed. Finally, wash all sheets, pillows, mattress pads, bedspreads, duvets, coverings, and comforters.
Weekend 4 – Clean the living areas.
Start by taking down all drapes, blinds, curtains, or valences and taking them to a professional cleaner. Like the bedrooms the previous weekend, you should thoroughly dust end tables, coffee tables, bookshelves, and entertainment centers; then vacuum all floors, carpets, and area rugs. Use an attachment to vacuum sofas, chairs, and cushions.
Weekend 5 – Take a weekend off. Don't worry — you've still got more to do.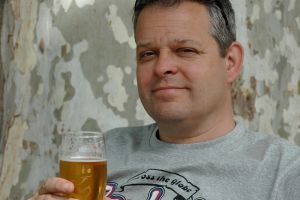 He's counting the hours until he gets to resume spring cleaning!
Weekend 6 – Clean out the garage.
Time to downsize! Any item, materials, or other non-tool or non-emergency items that haven't been used for two years should be discarded, sold, or moved to a permanent storage area like the attic. Then sweep or vacuum the floors and fix broken shelving units or racks. Finally, perform an inspection on any appliances in the garage (water heater, water softener, etc.).
Weekend 7 – Clean and service air conditioning and heating units.
After ensuring that no furniture or large objects are blocking interior or exterior vents in the home, change out the appropriate filters and clean all vents on the units themselves. Wipe down space heaters before storing them for the warmer months. Then get your AC unit professionally inspected before the mercury rises.
Weekend 8 – Clean and seal doors and windows.
Clean both the outside and inside of each window on your home within reach. During this process, inspect the weatherstripping to make sure they aren't leaking, and make any necessary repairs. Finally, clean the exterior of all front and back doors to keep them from getting stained.
Weekend 9 – Address outdoor tasks.
Sweep or hose off decks, sidewalks, patios, and driveways — and power wash these surfaces if they need it. Wipe down outdoor furniture like your grill, patio chairs, and accent tables. Finally, get out the ladder and clean all of the accumulated debris out of your gutters and downspouts.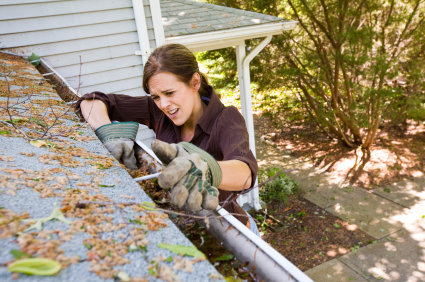 "Darn it! After this, I'm done with spring cleaning!"