Your Gutter Checklist for Fall
Are you ready for the only season that doesn't contain the letter "R?"
Have you put away all of your summer toys, games, and related accoutrements? Have you pulled out those earth tone-colored tablecloths, wreaths, and decorations? Have you attended (or hosted) your first football-watching party of the season?
Here's one more question: have you forgotten about your gutters?
Autumn is an important season to get your gutter system ready for the harsh winter that will be here before you know it. With that in mind, here is a month-by-month checklist to get all of your gutter-related chores done before temperatures plummet.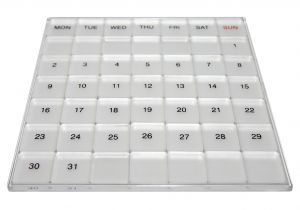 September
You don't have to wait until the 22nd before you get started on your fall gutter maintenance. Since you're supposed to clean your gutters (at least) twice a year, chances are you haven't touched them since the springtime. That means that there could be all kinds of debris (or perhaps even a summer toy!) just waiting to form a foundation for a clog when the falling autumn leaves arrive. So grab a hand spade, vacuum attachment, or garden hose and remove all of the junk that's been accumulating in your gutters for several months. Then run water from a hose through your entire guttering system to make sure there are no blockages.
October
This is about the time when leaves, pine needles, twigs, and other objects love to dislodge themselves from trees and fall to the ground. But if tree limbs are hanging over your home, this debris could fall onto your roof — where the next rainstorm could wash them into your (freshly-cleaned) gutters. So while you're out hanging up Halloween decorations, take that ladder over to those overhanging limbs and trim them back at least three feet from your roofline. Completing this task not only reduces the potential for gutter debris, it eliminates the possibility of a future winter storm causing the branches to break off and tumble onto your roof or gutters … where they can do some real damage.
November
Once the holiday season arrives, there will be no shortage of items on your to-do list. But you shouldn't completely neglect your gutters this month because it may be the last time you can make any significant repairs without having to deal with snow or ice. If you spotted any issues when cleaning your gutters out in September, this would be the month to address them. Examples include sagging gutter sections, improperly aligned or directed downspouts, or an improper gutter slope. Also, if you notice any fascia boards that were rotted out, you should either patch up the holes or replace the boards completely (or risk water leaks when the snowpack on your roof starts melting this winter).
December
Even though fall is winding down, your schedule is getting busier — especially if you hang Christmas lights on your home. Here's a tip: when dragging out your lights and hangers, grab some gutter repair supplies as well. You'll be up on the ladder anyway, so why not kill two birds with one stone? Take some sealant and repair any holes or cracks you see in your gutter sections while you put up your holiday lights. If you happen to see some rust, clean the area with a brush and apply some cement or caulk. And connect any separated gutter sections with rivets or screws (you might need a drill for this task).
One more thing: if all of this maintenance sounds cumbersome and time-consuming, why not give yourself the holiday gift of gutter guards? They will help keep debris out of your gutters so you won't have to clean them periodically, and this will help extend the lifespan of your guttering system. So instead of having your loved ones scour the malls for your gift, just set aside some funds to have professionals install gutter guards. Then revel in the peace of mind you'll have throughout the new year!