Top 5 Questions about Gutter Cleaning Answered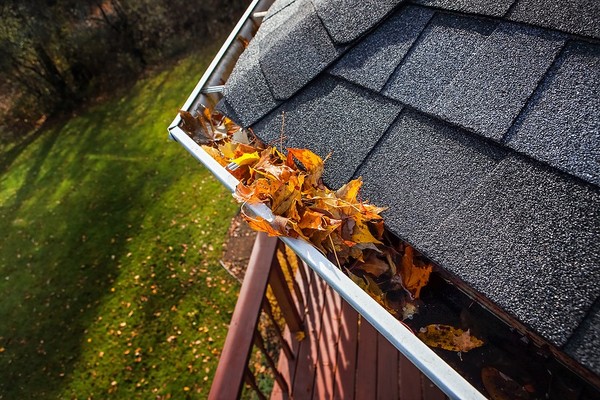 Most homeowners have a to-do list of household chores that seems to grow longer each year. For many people, gutter cleaning is one of those chores that gets pushed down the list until the last possible moment, likely because it's a dirty, unwieldy job that you usually have to do while standing on a ladder.
Then, there are questions that inevitably come up when you're contemplating the project, the first of which is, what would happen if you just decided not to clean those gutters at all? Should you try to clean them yourself? How much would it cost to get someone else to handle it for you? If you decide to go the DIY route, what is the safest way to go about it? And perhaps most importantly, is there a way to avoid having to ask these same questions again next year?
The gutter experts at Lednor Home Solutions have some answers to these frequently asked questions. Here's our take:
1) What happens if you don't clean your gutters?
Not cleaning your gutters is usually a recipe for disaster. Your gutters are designed to carry rainwater away from your home via downspouts and protect your home from water damage. When clogged with debris, your gutters will overflow with water. That, in turn, can lead to:
Flooding in your basement
Foundation damage
Damage to your landscaping
Pest infestations
Damage to your roof
Damage to your home exterior or interior
Growth of algae, mold, or moss
Ice dams
Sagging, twisted, or broken gutters
To avoid all these problems, it is recommended that you clean your gutters at least twice a year. If you live in a heavily wooded area, you might need to increase the frequency of cleaning.
2) Should you clean your gutters yourself?
This is not a simple "yes" or "no" question. The answer depends on a number of factors. Your first consideration should be safety. If you feel that you cannot safely clean your gutters as a DIY project, then you should definitely hire professionals to do the job.
That said, there are safe ways to clean your gutters, and many people choose to handle this project on their own for reasons such as budgetary constraints or scheduling concerns.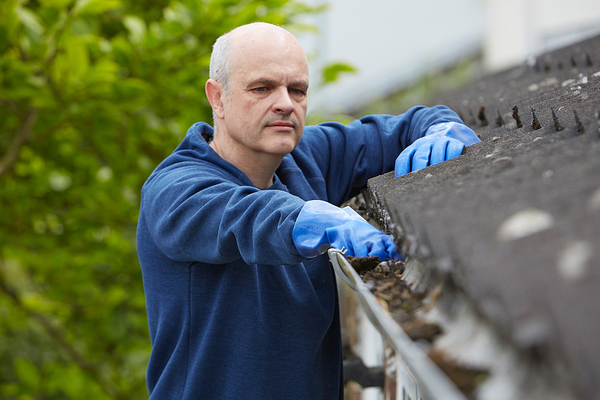 3) How much should you pay to have your gutters professionally cleaned?
On average, the cost for professional gutter cleaning nationally comes in at $118-$224, with a median cost of $158, according to data from Home Advisor. Bear in mind, those figures vary depending on several factors such as how many stories your home has and how many linear feet of gutter your home has. If you want a more precise way to estimate the cost of gutter cleaning, there are two formulas to help you.
By linear foot: If you know how many linear feet of gutter material is on your home, multiply that footage by $1 if your home is a one-story home and $2 if you live in a two-story home, to approximate your cleaning costs.
By square foot: If you know how large your home is in square feet (and how much of that square footage has gutters attached), multiply that number by .40 for a one-story house and .80 for a two-story house. This method is not as precise as the linear foot method, but it will give you at least a rough idea of costs.
4) What's the best way to clean your gutters safely?
The best way to clean your gutters safely is to use the right tools for the job. You will need a sturdy ladder, a ladder stabilizer, appropriate clothing (including a long-sleeved shirt, work pants, rubber gloves, and eye protection), a gutter scoop or brush, a tarp to protect your landscaping, and a garden hose to flush out the gutter and clear away any small debris once you are done.
Once you have your tools in order, it's simply a matter of using them properly. Here's how:
Stabilize your ladder on a flat surface and do not lean it directly on the gutter.
Spread a tarp under your work area to catch the debris as you remove it. This prevents you from having to do a second (and potentially big) clean-up job involving your landscaping.
Check to be sure your clothing is in order before you climb the ladder.
Use the scoop or brush to remove the debris from the gutter, tossing debris down onto the tarp below.
Move the ladder when needed rather than trying to stretch to reach hard-to-access areas. The ladder work is the most dangerous part of gutter cleaning.
Once the major debris has been removed, use the garden hose to gently flush out small debris and check for any leaks in your gutters.
5) Do gutter guards or gutter covers really work?
If you want to avoid having to do the gutter cleaning chore twice a year or more, you might want to consider installing gutter guards. There are a variety of gutter guard types from which to choose, and some work better than others. It makes sense to determine exactly what you want from your gutter guards and choose accordingly.
If your reason for wanting gutter covers is to end your maintenance worries, you will likely want to go with a  surface tension solid gutter cover such as Gutter Helmet. Here's how it works:
If you want to take back hours of your time each year and mark gutter cleaning off your to-do list, Lednor Home Solutions can help. Never clean your gutters again. Learn more about Gutter Helmet gutter covers today.