Why 2021 Is the Perfect Year to Upgrade Your Home's Gutter Protection System
Some New Year's resolutions have to do with personal care, such as losing weight and quitting smoking. Many others have to do with home maintenance. People who care about how their home looks and functions often use the resolution process to get serious about things like cleaning the basement, repainting the kitchen, or having a garage sale.
Here are three great reasons why this year is the right year to upgrade your gutter protection system too—installing key elements like gutter guards and other items will protect and keep your gutters working properly for years to come.
To solve problems before they start, read on!
1. Prevent Clogging
Clogged gutters is probably one of the most common gutter problems that homeowners have to deal with. And it's a pain! Either you have to climb up on a ladder and do the difficult, and sometimes dangerously precarious, work of cleaning your gutters yourself, or you need to pay someone to have it done. Or, even worse, you may ignore or fail to notice the clogs and end up with water damage and/or gutter damage as a result.
Why not make it easier on yourself? One big advantage of installing gutter guards is that they prevent leaves and debris from getting into the gutters and block the water from flowing freely through the gutter system.
Preventing debris from getting into your gutters in the first place prevents clogs from forming, which not only protects your home and gutter system from damage, but also saves you from difficult or expensive work. Wouldn't you rather have more time to focus on other things that are important to you?
2. Prepare for Next Winter
Clogging can occur at any time of year, but ice dams are a particular potential problem in the wintertime. If you've dealt with them before, you probably never want to have to do so again.
Ice dams occur when one part of your roof is warmer than another, causing snow to melt, flow downward, and then refreeze. Ice dams can cause water damage as well as major damage to your roof shingles and the gutters themselves.
A gutter heating system can help prevent all of this damage before it occurs. Adding a gutter heating system is much easier, and can potentially save you a lot of money, than trying to melt and clear an ice dam in the middle of winter before it can damage your roof or gutter.
A gutter heating system will help your gutters keep ice from forming and keep the water flowing properly thoughout the winter months. In the middle of snowstorm season, wouldn't that bring you peace of mind?
Improve Your Home's Value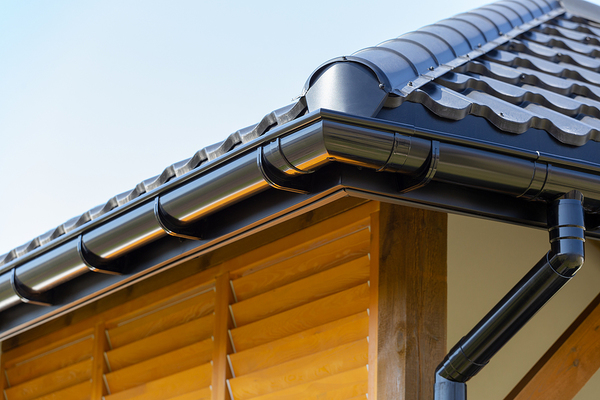 Whether you think you might move this year or you just want to help keep up the value of your home, a gutter protection system can help you out.
All functional homes have gutters: they're a necessary part of your roof system. But not all homes have gutter protection systems that help keep the gutters, roof, foundation, landscaping, and even interior in great shape. With a gutter protection system, you're less likely to experience damage that can lead to leaks or overflow that can damage your home's walls, foundation, basement, yard, roof and ceilings.
That greater protection leads to greater value for your home.
At Harry Helmet, we've spent over thirty years improving the gutters on homes like yours. It's time to find out how we can help you this year.  Schedule a free estimate with us today!